This is 2012.
This is Canada.
This is the age of mobile.
Yet marketing teams continue to waste time, money and effort on deploying useless mobile engagement. The result of poor execution for the company; time, cost and failure to collect valuable user information. The result for the user; frustration.
What is most astounding to me is that during the entire process of building the strategy, mapping out the campaign and the associated collateral that somebody did not test this execution and say, "Wait a minute, this is not functional. We need a different execution".
So, what has me going. Here is the scenario.
Early this week I met a long-time friend of mine for lunch at Original Joe's in Kensington. I had the Fish and Chips and my friend had the Cob Salad. All in all the meal was good and the conversation even better. When we received the bill they included the following;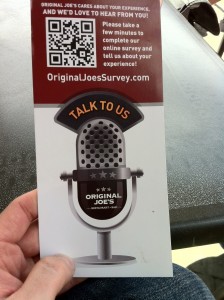 I was impressed that they included a QR Code on the survey. To me this makes a lot of sense to capture feedback at the time of checkout. What also is smart is that by including a QR Code, it gives a person immediate access to the survey on their smartphone. This is definitely going to generate a higher volume of responses than waiting for a person to get to their home/office to complete the survey at OriginalJoesSurvey.com.
As I pulled out my iPhone, ready to provide some good feedback, here is what I encountered. Continue reading →